Russian Criminal Tattoos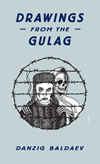 Buy The Books Here
To say that the three volumes of The Russian Criminal Tattoo Encyclopaedia were a useful source for me is to put it mildly. The tattoos were collected by Danzig Baldaev, himself the son of an Enemy of the People, who ended up as a prison warder in the infamous Leningrad Prison, Kresty (Crosses in English). Since the first volume FUEL have published two more as well as a collection of Baldaev's GULAG drawings. With FUEL's kind permission I've published a small selection of Baldaev's tattoo drawings along with explanations as to their significance and some of Sergei Vasiliev's photographs of modern criminals that are also included in the Encyclopaedia.
For those that might be interested there are many, many more tattoos and photographs in the Encyclopaedia itself along with essays on the code of the Russian criminal underworld and there's a link to the right for this page if you're interested in purchasing them. There are also some more photographs and tattoos available on FUEL's website (www.fuel-design.com).
Drawings by Danzig Baldaev
Photographs by Sergei Vasiliev
All images Copyright FUEL
Reproduced with kind permission from FUEL Design & Publishing. Images taken from Russian Criminal Tattoo Encyclopaedia Volumes I-III.